About Mildred's Big City Food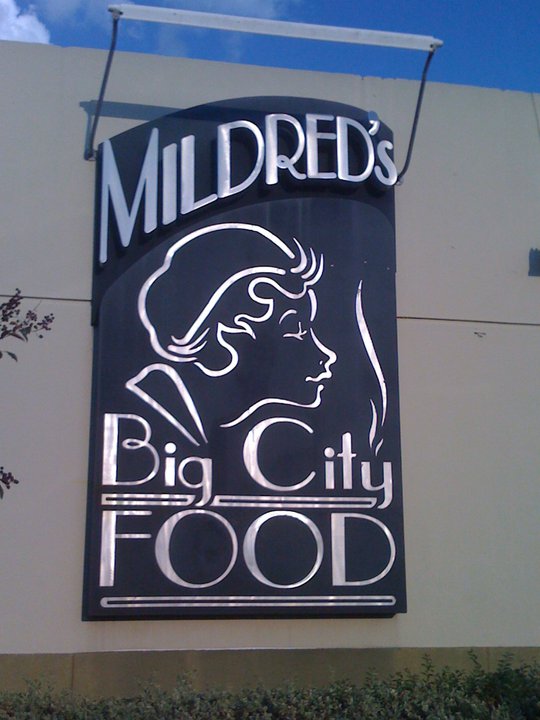 The New Deal Café is owned and operated by Tara & Bert Gill, proprietors of Mildred's Big City Food and Blue Gill Quality Foods.
Established in 1999, Mildred's Big City Food serves high-quality food crafted from locally sourced ingredients. By day it is a casual bistro-style setting, in the evening Mildred's offers some of the most sophisticated cuisines in the region with service to match. The menu changes nightly, with a meticulously crafted wine list and top shelf, craft spirits. When dining at the New Deal, you are welcome and encouraged to order from our Mildred's menu.
The New Deal Café features local award-winning burgers and salads and we all know there's nothing better than a well-paired burger and beer. We also have a great pizza oven so that we can offer delicious, crispy flatbreads in addition to our burgers. We offer happy hour daily from 4-7pm and our back dining room is available for private events such as business dinners, showers, and birthday parties.
In 2011, Blue Gill Quality Foods opened its doors inviting friends and family to enjoy contemporary meals inspired by southern cuisine. Blue Gill offers local, fresh ingredients in dishes created by a talented kitchen staff. For private events, Blue Gill also provides a venue known as "the barn" adjoined to the main dining room.
From day one, the Gills and their staff have ensured that their restaurants not only offer delicious cuisine but also maintain a community first orientation. While they purchase products from local farmers and artisans they also contribute to Gainesville in a more subtle manner. In 2008, Bert won the Florida Volunteer Restaurateur Award for his work as a mentor with the Eastside High School Culinary Team. Additionally, under Tara & Bert's careful guidance numerous Gainesville residents have had the opportunity to learn skills of the trade, which has allowed them to seek hospitality careers in competitive environments such as New York City, Chicago, and Atlanta.
Mildred's Big City Food is located at 3445 West University Ave. in the Westgate Regency Shopping Center. Parking is available in front of the restaurant.
Directions to Mildred's:
From I-75 and Archer Road: Head East on Archer Road. Make a left at the intersection of 34th St. and Archer Road. Keep left. Make a left at the intersection of 34th St. and University Ave. Restaurant will be in the first plaza on the left (Westgate).
From Main Street and Downtown:
Head West on University Ave. Keep left. Make the first left into the Westgate Plaza after crossing the intersection of 34th St. and University Ave.